When it comes to investing in commercial outdoor furniture that will last a lifetime nothing compares to concrete. Many towns, businesses, schools, state parks, and memorial parks have benefited from the longevity that concrete site furnishings offer. With this time-tested quality, why not add a name, message, or logo for people to see for years to come? For instance, you can proudly show off a school mascot on a trash can, play chess on a checkerboard top picnic table, or display a memento for a late loved one on a memorial bench. Concrete is timeless. And customizing concrete furniture is a great way to get your message set in stone, literally!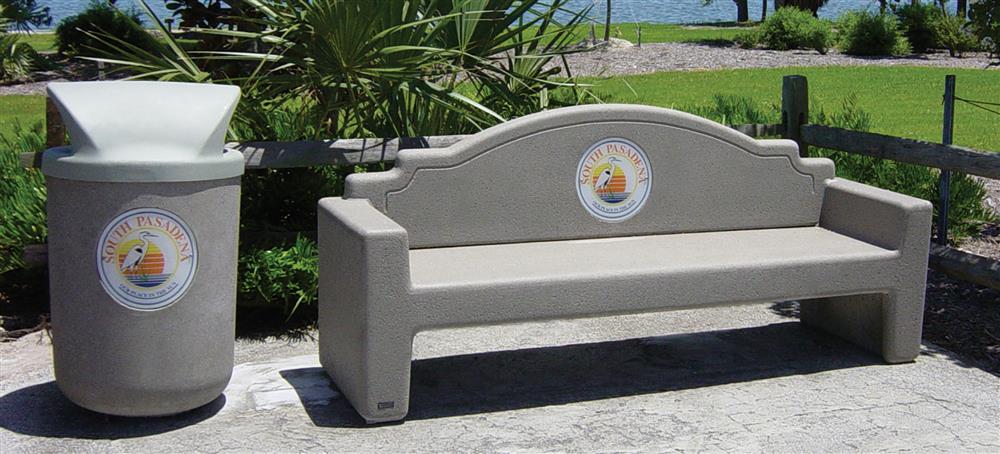 Cast-in Lettering
Cast-in Lettering allows for letters to be imprinted into the concrete furniture. The wording is laid out and inserted into the mold as the concrete is poured for a clean, solid finish. There is no chipping or drilling involved to potential damper the integrity of the material. Indentions are made at a ¼" depth so each letter is visible from a distance.

Available in 2 font options:
Optima Bold
Size: 1.5" or 2" Upper or Lower Case
A B C D E F G H I J K L M N O P Q R S T U V W X Y Z
a b c d e f g h i j k l m n o p q r s t u v w x y z
1 2 3 4 5 6 7 8 9 . , : ; & # = +
Helvetica Bold
Size: 2" Upper Case Only
A B C D E F G H I J K L M N O P Q R S T U V W X Y Z
1 2 3 4 5 6 7 8 9 . , : ; & # = +
For benches, the cast-in letters can be positioned on both the backrest and along the seat front. The message can be laid out with a straight or slight arc. No customization can be made to the seat itself as water will pool in that area. Additionally, no letters can be raised.
Keep in mind, the cast-in letters are charged by the character, so choose your message wisely to keep costs low.
Cast-in Logo
Similar to cast-in lettering, simple logos can also be imprinted into concrete. This may include company logos, school mascots, clip art pictures, and more. A high-quality vector file (.png, .pdf, .ai) with a transparent background is needed for clean line art. Not all designs are possible for this option and prices and sizing may vary depending on intricacy.

Sublimation
For more complex designs, pictures, and photos; sublimation can be a perfect option. Sublimation is an ink-jet printed vinyl disc. The material and ink are infused with UV inhibitors to resist fading from outdoor exposure. A round cast is imprinted into the concrete to seat the logo that is secured by 2 support screws. The sublimation can be replaced via a hex key, however, you will more than likely need to break the old existing vinyl to remove it, due to its snug fit. A high-quality document is again needed as the picture will be blown up to fit in a 12" space.

Plaque
If the intended design requires a long quote, song, pledge, passage, etc. then a plaque may be the best choice. Much like sublimation, a plaque can be inserted in the furniture to display a message without accruing additional cost per letter like the cast-in method. Different sizes, shapes, and fonts are available for the best presentation and fit.

Additional Options
Once you decide on the best customization, you can add a couple after casting upgrades to enhance and protect your furniture.
In-Lay Color
An inlay color can be added to cast-in customizations for purposes of contrast or individuality. Premium stains are painted into the indented letters and/or logo, to make the message more noticeable and eye-catching. There are many vibrant colors to choose from to achieve a unique look. Up to 6 colors can be used throughout the design, but the cost increases as more colors are added.
Anti-Graffiti
Once the custom furniture is complete, Permaclean Anti-Graffiti Sealer can be applied for long-lasting vandalism protection. This formula creates a clear coat barrier to repel inks, dyes, and paints, preventing absorption or adhering into the concrete. It also resists UV rays without yellowing, withstands multiple pressure washing treatments, and generally lowers the maintenance of the furniture.
There are many benefits to including custom wording and logos in your concrete furniture. However, bear in mind that each customization is subject to different pricing and setup fees. Discuss your thoughts with a Sales Professional from Picnic Furniture for the best possible options. We will provide you with a written quote and an example mock-up of your design. An official mock-up will be provided after purchase, but before production to be signed for approval.
If you have any questions call 1-800-775-8409 for more information!