This coming Sunday, families all over the country are making preparations for the joyful Easter holiday. An Easter egg hunt is an awesome way to have fun and there's no better place to have one than your nearby park and playground! The park has many features and amenities where you can hide eggs for children of all ages to find! It's also great for doing other outdoor Easter activities and hosting a family picnic.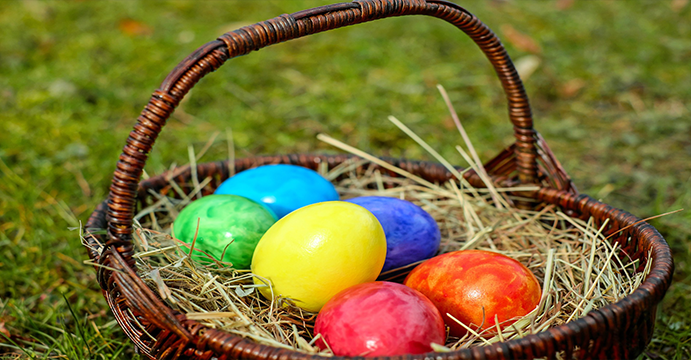 Easter Egg Hunt in the Park and Playground
The most popular activity for families to do on Easter day is to have the traditional Easter egg hunt. An Easter egg hunt in the park is an excellent way for children to have fun and get some exercise. It involves discovering colorful eggs hidden around the park, possibly containing special Easter surprises inside. Once an egg is found, it is collected in the child's basket or bag with other found eggs until the hunt is over. The Easter hunt is easy to organize and can be tailored for participants of any age. Start by selecting a designated area for the Easter hunt like the nearby playground area. The playground holds a lot of key hiding spots for children to explore, such as on the swings, under the slide, covered by mulch, up and down the climber, within the animal riders, etc.
When it comes to gathering players, why not get the whole family involved? Not only can you turn it into a fun bonding time between family members, but you can also have people of different ages handle different tasks. For example, the adults will hide the eggs before the younger children go out on the hunt. Once the Easter eggs are hidden, it's time for the hunt to begin!
While the traditional Easter egg hunt is enough fun to bring a smile to any face, there are some additional activities that can turn an Easter egg hunt in the park into an unforgettable experience. Be sure that you have enough "eggs" for everyone, along with a few special "prize eggs" for an added twist. For even more added extra fun consider organizing a themed egg hunt. This could be anything from 'pirates' to 'farm animals'. Parents can dress up as characters for the theme and hide style-based Easter eggs.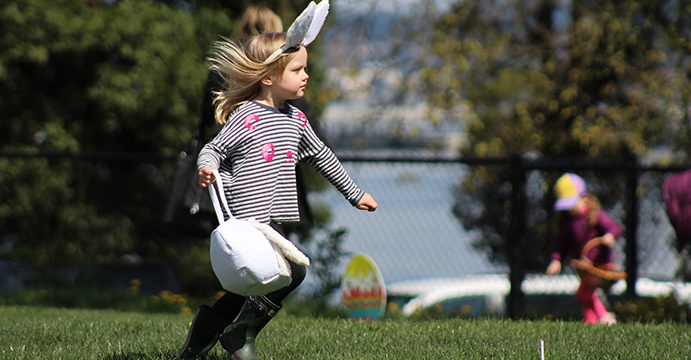 More Fun Easter Activities!
Once the egg hunt concludes and the last egg is spotted, one might wonder, "What's next?" The festivities have just begun! Let's take advantage of the sunshine and the open area at the park by playing some fun Easter activities with an egg-themed twist that the whole family can enjoy! Give some of these Easter activities a try; they're sure to keep everyone entertained!
Easter Egg Spoon Race: Divide the family into two teams and have an egg race around the park! Place an empty egg carton or basket at the end of the finish line for each team. Take turns running the course with an egg balanced on a spoon. If the egg falls, pick it up quickly so you don't fall behind. For a challenge, have a baton-style race whereby the egg is passed from one teammate to the next in the middle of the race until the finish line is reached. Continue until all the eggs have made it to the finish line. This game will have everyone in stitches as well as getting them up and active!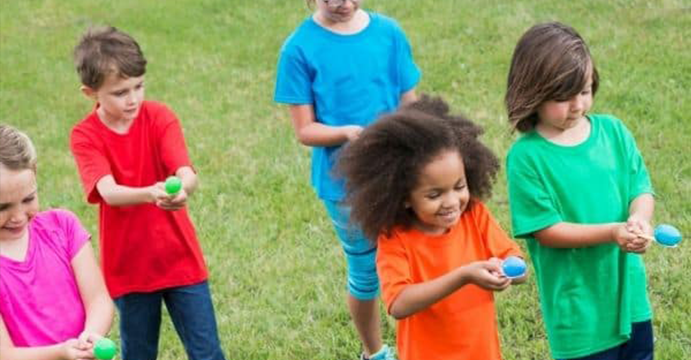 Easter Egg Toss: This fun game can be a bit challenging but is great for kids or preteens! Players need a partner with whom to throw a weighted plastic egg or hard-boiled egg back and forth. Drop the egg, and you and your partner are out. The goal is to be the last pairing still tossing their egg. After 10 successful catches, take a step back for extra difficulty and challenge your dexterity!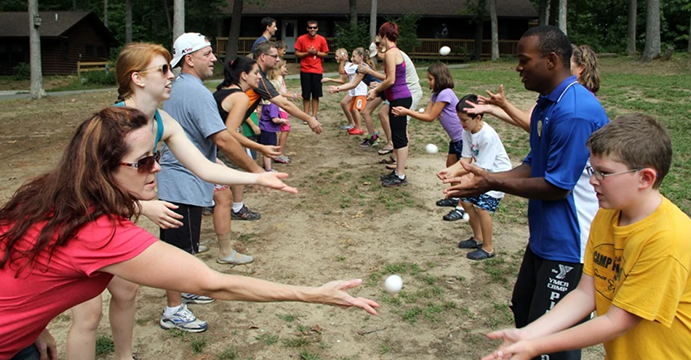 Easter Egg Grouping Game: Let your preschoolers' color-learning skills shine by playing this fun game! Get a wide array of colorful eggs and arrange them in a large circular area in the park. Assign each player a certain color to collect, and make sure that each person has the same quantity of eggs in that particular color. Provide each person a basket as well, and have them start on the outside of the circle. Once everyone is ready, yell "GO"! and have them race to gather their own colored eggs in the basket. If you want to change it up, you can also ask them to search for specific sizes or styles of eggs instead of colors. Whoever fills their basket first wins!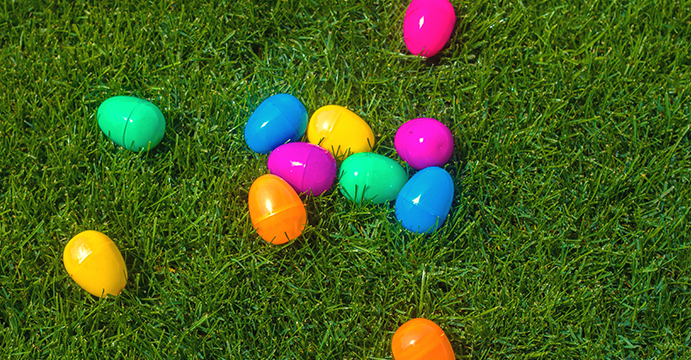 Easter Scavenger Hunt: Scavenger hunts can be a lot of fun, but Easter scavenger hunts can take it even further! Whether you're playing with individuals or in groups, you'll need to plan ahead by coming up with a list of items that can be easily found around the park. These items can include leaves, rocks, sticks, pine cones, or acorns. To make the game extra fun, you can bring additional items with you to the park! Remember not to pick anything that might damage the park or the wildlife that lives there. Then, print out some copies of the list and hand them out to the players. Whoever can be the first to collect all the items on the list wins! For a more creative and exciting game, have the players use the items they collected to build something--such as an Easter Bunny or a chicken--and have them judged on which is the best to determine the bonus winner!
Easter Picnic at the Park
Host an Easter picnic outdoors in the park to enjoy a meal and save money from dining out! Pack a basket or cooler with sandwiches, chips, cold drinks, charcoal, and all the fixings for hot dogs and burgers to cook on the grill. Everyone can gather around the picnic tables under a covered pavilion and feast on delicious food while enjoying the company of friends and family. If you host the gathering outside at the park, not only do you get to enjoy a delicious meal outside a confined space, the cleanup process won't be the sole responsibility of a single person, as it would be if you had Easter lunch and dinner at someone's house.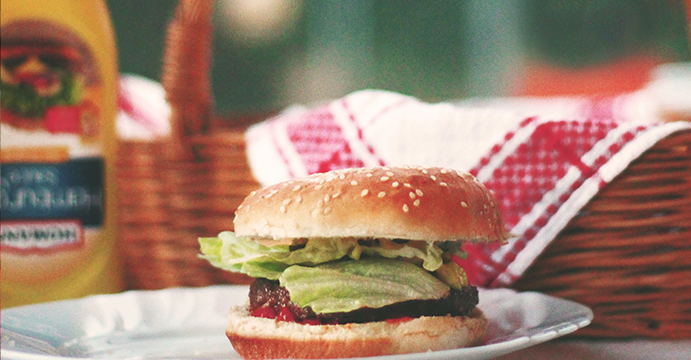 Families and friends gathering together to join in an Easter egg hunt is a classic spring activity that can provide hours of fun for everyone. An Easter egg hunt in the park is an affordable and safe way to spend quality time with loved ones as you celebrate the special holiday. With warmer weather, it is the perfect time to go outside and make new memories!
Make sure to visit your park playground and start planning your Easter hunt today! It's the perfect way to spend quality time with those you love, enjoy the great outdoors, and get into the Easter spirit.