Tucked away, in a heavily wooded area in Palm Coast, Florida, there are long dirt trails that lead to a hidden historical treasure. The Princess Place Preserve, an estate inspired by love that would lead to the construction of the state's first swimming pool.

Princess Place History
In 1886, a man named Henry Cutting, who was a wealthy Dutch descendant, bought 1,500 acres of land in Flagler County to build his lodge with an Adirondacks style architecture using Florida's finest natural materials. With the help of his friend Henry Flagler, Cutting enlisted artisans workers to construct the lodge's walls using a mixture of locally mined pink coquina shells and cement, while the supports for the wraparound porch were held with cabbage palm and cedar trunk supports. Cutting had them install an in-ground cement swimming pool attached to a pool house, mere yards away from the lodge. This concrete swimming pool would become an inspiring landmark as the very first of many swimming pools to be established in Florida. During this time, swimming pools were just starting to gain popularity as upscale symbols in Britain. The 72-degree fresh pool water continuously flows from a nearby artesian well. A makeshift diving board loomed over the waters from the pool house to add additional entertainment. Other complexes built on the grounds included servant's quarters, caretaker's house, tennis court, stables, and a bathhouse. Following the completion of the lodge and pool in 1888, Cutting brought his betrothed, Angela, to visit their winter cottage and they soon married that same year. Long-stretches of dirt trails were cleared and lined with inviting paired palm trees, to enhance one of Angela's favorite pastimes of riding horses. Unfortunately, Cutting died suddenly in 1892, leaving his widow and two small children the Cherokee Grove property.
Years later, Angela would meet and marry an exiled Russian prince who went under the alias of Boris Scherbatow. Originally named Boris Scherbatoff, he changed the spelling of his name for fear of his life. With their union, Angela gained the "princess" title and her land that was known as Cherokee Grove would later be named Princess Place Estate.
Princess Place remains off Old Kings Rd. in Palm Coast. After changing hands, a couple times over the years, Flagler County purchased the property as a preserve in 1993. The National Park Service would then add the 1500-acre site to the U.S. National Register of Historic Places on May 2nd, 1997

Princess Place Today
Princess Angela's lodge is open for tours during select hours for her complete story and a touch of Flagler County's History. The historical concrete inground swimming pool remains fully functional, but there is no swimming allowed. Appearing as a mere shadow of its formal self after a century of wear, there have been discussions of someday restoring this iconic landmark to its original glory. The public is free to visit the Princess Place Preserve for other enjoyments, such as picnicking, wildlife viewing, fishing, kayaking, hiking, horseback riding, and camping. There are many nature trails that lead to the sighting of Princess Place's permanent residents: white-tailed deer, red fox, armadillos, eagles, Florida Panthers, and more. Wooden picnic tables, trash receptacles, and park grills have been placed in picnic areas by the waterfront to enjoy a nice barbecue surrounded by Florida's natural paradise. The camping grounds contain an open area for large groups to pitch up their tents around campfire rings for a safe cooking and storytelling environment. Horse prints are still imprinted on the sandy trails as Angela's favorite hobby continues with modern-day equestrians. Princess Place has also become a popular wedding venue. With massive live oak that span across the waterfront junction of the Pellicer Creek and the Matanzas River, it's no wonder that many couples choose these scenic grounds for their big day.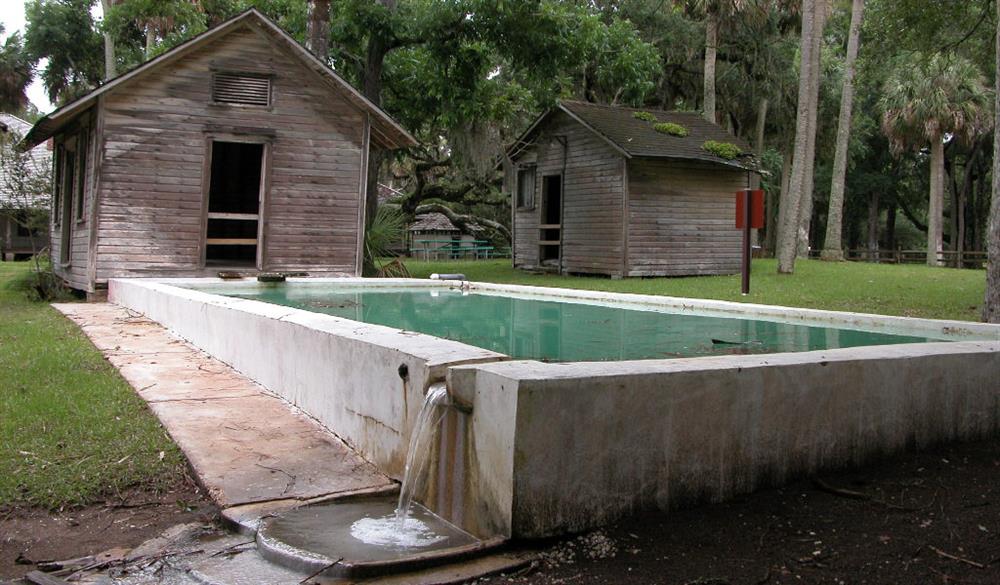 Princess Place Future
Furniture Leisure offers many timeless styles of Commercial Concrete Picnic Tables, Concrete Trash Receptacle, and Concrete Benches, that will last a lifetime just like Florida's first inground concrete swimming pool. These Commercial Grade Picnic Tables and Benches are reinforced with heavy-duty steel rebar to ensure strength throughout many decades of heavy use. Due to its rough texture, we don't use coquina shells to enhance the beauty of our furniture, however, the concrete is enriched with a choice of different color and sized pebbles providing comfort along with a natural look.

We also provide National Parks like Princess Place with other commercial grade outdoor furniture such as Trash Receptacles, Bike Racks, and Park Grills.
For more information about the Princess Place Preserve, visit www.flaglercounty.org.