Daycares and preschools strive to create an environment in which young learners have the opportunity to grow and develop through activities that are both engaging and educational. And play is a fundamental part of development for preschool-aged children. A well-designed daycare playground can be a great method to make learning fun. Through play-based activities, children can develop skills such as problem-solving, critical thinking, gross and fine motor coordination, spatial awareness, and even social interaction. In addition, preschool playgrounds offer a variety of play opportunities that can help kids build language and literacy skills, improve creativity and self-expression, enhance physical fitness, and increase their self-esteem. The design of the playground is essential in providing a stimulating and inviting activity space for young learners. A carefully planned daycare playground provides many preschoolers with the environment they need to grow and thrive.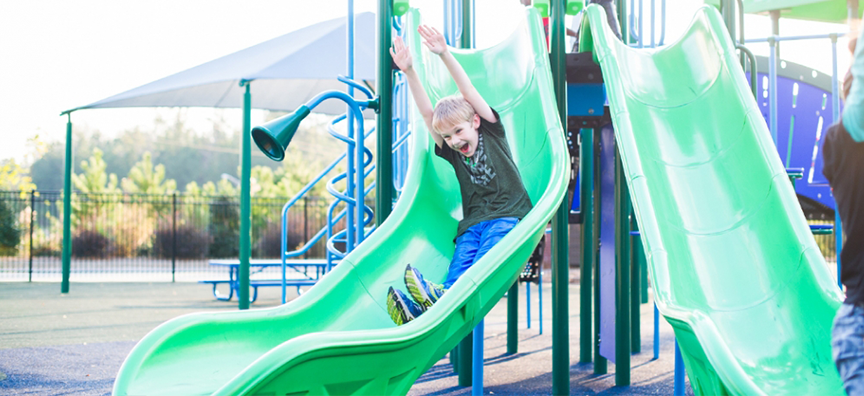 Benefits of Daycare Playgrounds for Preschools
A daycare playground provides a safe and secure area for children to explore, exercise, interact and play while under the supervision of adults. These playgrounds offer many benefits and can help children learn and grow, both physically and cognitively.
Physical Activity and Exercise: All children need regular physical activity to grow and stay healthy. A daycare playground provides just that. Preschoolers will be able to run, jump, climb, and explore as they develop their gross motor skills and agility. Over time, this physical activity will help children stay in shape and reduce the risk of becoming overweight or obese.
Socialization: Being around other children within their peer group gives preschoolers the opportunity to learn important social skills. They can practice taking turns and understanding interpersonal boundaries with the help of adults. This can better prepare them for kindergarten and beyond.
Cognitive Development: As mentioned, preschoolers learn and explore the world through play. A daycare playground allows children to express their curiosity in a safe and secure environment. As they explore, they expand their knowledge and understanding of their surroundings.
Boost Confidence: With more room to roam, preschoolers can find the confidence to leave behind the feeling of shyness and explore their independence. This newfound sense of confidence can be especially crucial before they move into kindergarten.
Creativity: Daycare playgrounds provide children with the opportunity to engage in imaginative play. Through role-playing and sharing ideas, children can gain confidence in expressing themselves and start to gain a real appreciation for the world around them.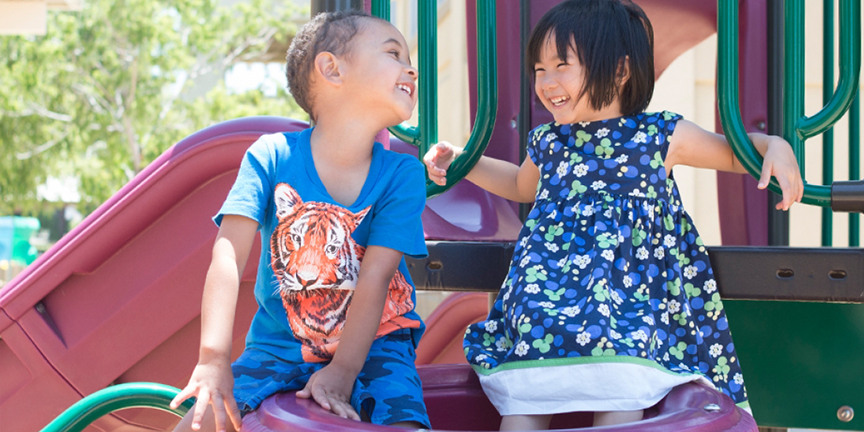 Fun Engaging Activities to Consider for a Successful Daycare Playground
Ensure that playtime is as fun and engaging as possible by incorporating a well-designed daycare playground featuring such playground equipment as playsets, swings, slides, climbers, spring riders, and other enjoyable amenities. This type of equipment is low-maintenance, meaning less stress on the daycare staff and more playtime for the kids. The vibrant colors, interesting shapes, and versatile play equipment ensure that young learners are engaged and entertained while honing crucial skills. Additionally, the sets can be themed to fit the interests and learning styles of the children. For example, a colorful beach-theme playground setting for children aged 2 to 12 years of age can include the Village Green playground set, Poseidon't Hideout climber, Spelling Panel, and Wally the Whale spring rider. Or perhaps a jungle theme featuring the Patriot's Point playset, Alligator spring rider, and a 2-set bipod swing set, covered by a shade structure. The combination possibilities are endless and so are the benefits. Not only do these play areas provide great fun, but they also allow kids to learn and grow in a safe and secure space.

What to Consider when Establishing the Daycare Playgrounds for Preschools?
Daycare playgrounds are an important component of preschools. As mentioned, they provide children with a space to play and can be filled with a variety of play options that allow children to use their imaginations, express their creativity, and develop their physical and social skills. When looking for daycare playground equipment to provide for preschools, it is important to consider the following factors:
1. Safety: The most important factor to consider when looking at daycare playgrounds is safety. Pay attention to the material used in play structures and equipment to make sure they are designed with safety in mind and that the playground has been built and maintained according to ASTM safety guidelines. Look for padded floors and surfaces, and proper drainage, and ensure that all play structures and equipment are age-appropriate. Be sure to include fencing in the design to help ensure a safe and enjoyable environment.
2. Space: daycare playgrounds should be spacious enough to accommodate all of the children playing at once and should have a variety of structured and unstructured play areas. A more extensive playground allows for freedom of movement and exploration for the children.
3. Variety: Provide a range of activities for the children to enjoy. Look for play structures that allow for physical activities, such as swings, slides, and climbing structures, as well as areas for creative exploration, such as freestanding panels, playhouses, building blocks, and sand play. Again, all are within the appropriate age range.
4. Maintenance: Make sure the playground is always clean and well-maintained. There should be regular inspections to ensure that all play structures are in good condition and that all equipment is working correctly.
5. Budget: While safety should always be the most important factor when selecting daycare playground equipment, budget is also a concern. Look for playgrounds that offer a variety of play options without breaking the bank. Investing in quality playground equipment is essential, but there are cost-effective options available if you shop around or purchase together with a written quote.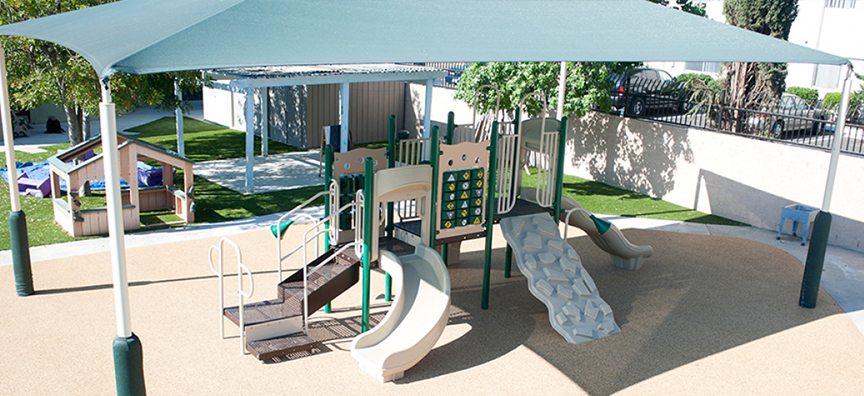 The daycare playground is an ideal environment for preschools to provide their students with a safe and secure place to learn, grow and play. They are built with colorful, durable, and age-appropriate materials best suited for their young users. By considering all of the above factors when selecting daycare playground equipment, you can ensure that you are providing the safest and most enjoyable play experience for your preschool's students. With the help of adults, preschoolers can use these playgrounds to help improve their physical health, gain valuable social skills and boost their creativity.