Universities and school campuses across the country are constantly looking for ways to meet the changing expectations of students who are looking for more than just an education when they enroll. They're looking for value-added perks like more comfortable and spacious dorm rooms, recreational facilities and programs, and opportunities to create a real sense of community with their fellow students. As a result, educational institutions are rethinking their campuses and designing better spaces and experiences to attract students.
A growing trend amongst U.S. higher institutions is to build indoor and outdoor leisure pools where students can cool off, unwind, and spend time outside of the classroom with friends. Different from the swimming pools that feature swim lanes and diving boards, leisure pools provide more of a spa-like experience because they feature chaise lounges, poolside tables, and umbrellas. These may seem like extravagant features for a college, but the effect they have on students' mental and physical well-being can be invaluable.
If your university or college campus has a recreational pool area or is considering building one, make sure it's furnished with high-quality, commercial pool furniture. Consumer pool furniture just won't cut it for your campus students; commercial-grade tables, chairs, and loungers are essential to providing the functionality and dependability you require. But that's not all that commercial pool furniture provides. Here are five more reasons why high-quality pool furniture is essential for educational institutions:
1. Commercial pool furniture stands up to extended wear and tear
College students can be a little rough on furniture. They will adjust loungers, move tables, and rearrange chairs without any concern for the furniture. Retail patio furniture can't stand up to this type of treatment for long but commercial-grade pool furniture is resilient and can handle the abuse. Vinyl strap chairs and chaise lounges from Picnic Furniture are a great example. Their frames are made of heavy-duty, powder-coated aluminum which resists corrosion and rust – two issues that consumer pool furniture faces when used near or in water. Our pool furniture also features 2-inch thick vinyl straps which are double-wrapped around the frame so they won't come loose or sag. With a five-year commercial warranty, our vinyl strap pool furniture is a great addition to university pools.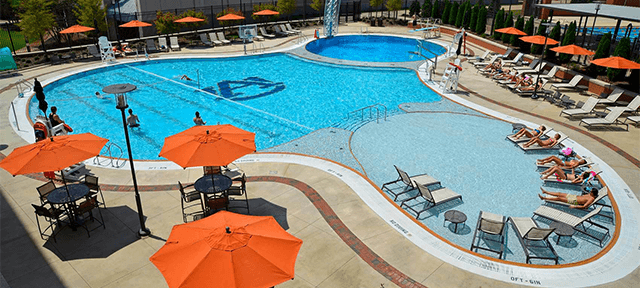 Auburn University's recreational pool for students features vinyl strap loungers poolside as well as in-pool
2. Pool furniture offers a comfortable place to relax and unwind
After a hard day of classes or exams, students will appreciate heading to the rec pool to de-stress and soak up the sun. Comfortable loungers help them do just that. Sling chaise lounges feature double-stitched sling fabric that provides a little give for maximum comfort. Designed with powder-coated aluminum frames, sling lounges offer the perfect blend of form and function. Consider our St. Maarten Sling Chaise Lounge which measures 79 inches in length and has five adjustable adjustments for the seatback. These stackable loungers are constructed of high-quality commercial materials but weigh only 19 pounds, making them easy to move.
California State University Long Beach's Recreation and Wellness Center provides ample sling chaise lounges poolside for students
3. Weather-resistant materials ensure year-round outdoor use
Commercial outdoor pool furniture from Picnic Furniture is designed for outstanding performance in harsh environments. From plastic resin and recycled plastic to marine-grade polymer and powder-coated aluminum, the commercial-grade materials in our products resist damage from constant exposure to chlorine, salt, and water. Even our vinyl strap furniture is UV-stabilized to prevent color fading from the sun. Durability and dependability don't just apply to chairs and loungers – commercial poolside tables and umbrellas are also made to last. Our variety of dining, cocktail, and side tables are constructed of weather-resistant powder-coated aluminum, plastic resin, recycled plastic, fiberglass, and acyclic. Commercial-grade fabrics from leading manufacturers such as Sunbrella and Outdura cover our commercial umbrellas and shades, making them not only UV-, water- and fade-resistant, but also wind-resistant up to 50 mph.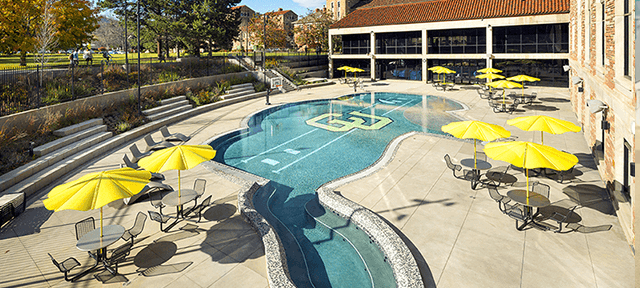 At the University of Colorado – Boulder, their commercial outdoor pool furniture withstands the area's everchanging weather of snow, sun, and rain
4. Schools can customize furniture to match their university colors and brand
Students embrace their school spirit by sporting school colors, so why shouldn't your recreational pool furniture do the same? Picnic Furniture's pool furniture products come in an array of colors to match your team colors or outdoor pool area décor. Our sling pool furniture offers 21 fabric color options and 23 unique frame finishes, while our vinyl strap products include your choice of 26 strap colors, 24 accent strap colors, and 23 frame finishes. The color combinations are endless!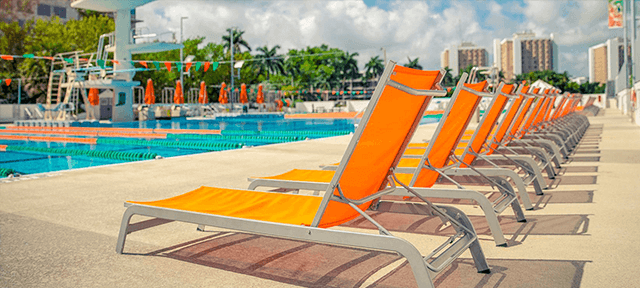 The University of Miami infuses its famous orange team color into its outdoor pool furniture
5. High-quality pool furniture can enhance the student experience
As the young Gen Z folks say, "YOLO!" Today's student body has this "you only live once" mentality and believes they deserve to live a first-class life. They are focused on experiences and strive to create deeper connections and attain a more meaningful life through their experiences. A leisure pool with inviting poolside furniture helps enhance their mood, decrease their stress and strengthen their overall positive experience with your institution. Chaise lounges with side tables, umbrellas, and even cabanas can give students the feeling they're on vacation – even though they may only be on break for an hour between classes. Being a happy student benefits them and your university culture.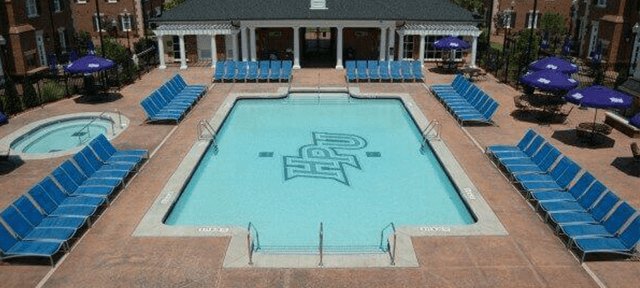 High Point University's outdoor pool area creates a relaxing vibe and enriched experience
A higher institution upholds high standards and those same standards should extend to its poolside furniture. As you research and shop for pool furniture for your outdoor pool area, look for commercial-grade materials, modern designs, and customizable options to meet your student body needs. Need assistance finding the right products for your pool environment? Give us a call at 1-800-775-8409 and one of our commercial furniture experts will be glad to help. At Picnic Furniture, we not only sell pool and picnic furniture, we also provide complimentary consultation services to determine the best products to fit your space and needs. Contact us today for a free custom quote!